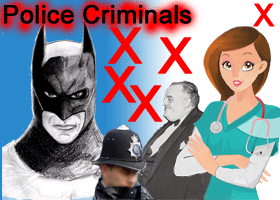 Police cover up child abuses
Hard evidence of child abuses given to police.
Witnesses told police.
Evidence accepted in Crown Court,
Ellesmere Port Police refuse to investiogate,

Child abuse cover up by Ellesmere Port Police.
The police refuse to investigate
because some police officers
will be sacked for covering up.
John Dwyer - crime commissioner is responsible for all this criminality.
Please contact John Dwyer . Email: police.crime.commissioner@cheshire.pnn.police.uk
Ask him why he has approved of covering up child abuse
and a host of serious crimes
---
1. When I complained to the police,
... DI Nigel Parr replied on behalf of the PPS
(police professional standards)
saying that the police had behaved professionally
in doing the following things
to my children and me -

1. Putting my children into abuse.
2. Did not investigate hard evidenced child abuses,
3. Charging the wrong person, fully in opposition to hard evidence ,
4. Destroying my family by wrongfully and recklessly applying bail ,
5. Keeping a man from protecting and seeing his children for 3 years,
6. Throwing a man out of his house and away from his friends and neighbours for a year,
7. Confining a man to open imprisonment for a year,
8. Destroying the family business (circa £300,000) ,
9. Destroying my car (top line people carrier),
10. Destroying my children's future financial security,
11. Making me homeless .
12. Promoting domestic violence.
14. Putting a man in prison for reporting child abuse.
15. Refusing to investigate child abuse witnessed in the Crown Court
16. Covering up multiple acts of perverting the course of justice by police.
17.Covering up multiple acts of perverting the course of justice by Ellesmere Port Social Workers
18.Covering up multiple acts of perverting the course of justice by two child abusers.
19.Covering up multiple acts of harassment by Ellesmere Port Police
20.Covering up multiple acts of harassment by Ellesmere Port Social Workers
21.Covering up multiple acts of harassment by two child abusers.
The crime commissioner for Cheshire (John Dwyer)
knows about this and he is keeping it very quiet
from the public that he has sat and comfortably watched
all this happen ( he was kept updated on matters).
How did this all come about ?
---
2. I first became introduced to Cheshire Police....
...in 2006. My wife had returned from Scotland
and tried to unilaterally abduct our daughter
to her sisters house in Scotland.
Befuddled by such goings on, I contacted social services
and health services. They all said it was nothing to do with them.
Various enquiries eventually led me to family solicitors
and the obtaining of a prohibitted steps order.
This was to prevent my wife from abducting our daughter
without first explaining herself to the family court.
My wife having been served the papers,
took my daughter for a walk. After a couple of hours
I became concerned and phoned around.
I eventually found out from family in Scotland
that her brothers (who were quite familiar with the police)
were driving down to take her and our daughter
to Scotland; breaking the court order.
There was a knock on the door and when I answered it
the policeman,
very fast,
pushed me through the living room
and onto the back wall pinning me to it.
My response was the deer in the headlight phenomena
as commonly reported - bewildered.
Possibly they had come to the wrong house
and were looking for drug smugglers or something ?
Then I saw my wife running in and out the house
with my daughter's belongings. I asked the police what they were doing.
They muttered various things about domestic violence.
I asked them if the police were by any chance
helping my wife commit a crime.
They were very confused - which I have now experienced many times
with Cheshire police.
I told them there was a court document on top of the television
preventing my wife from abducting our daughter.
When they first read it, there was scratching of heads
and mutters about 'has he just printed this himself ?.
I asked the policemen (or bamboozling creatures in uniform)
if they could check things with their superiors.
Eventually they physically let me go,
returned my daughter
and left what resembled a rugby pitch on a rainy day.
So, we started with my wife lying to the police
and the police believing her
and setting about me
to help her commit a crime.
It only got worse from there onwards.
---
3. More to follow. Don't miss the continuation of 'Carry On Cheshire Police'.
---
Click here for a table of evidence - various documents that show the domestic violence, domestic abuse and corruption.
You can help rescue the children and bring these criminals to justice - from your computer - Page with email addresses. .
Also link here to know more About Moral Propositions.