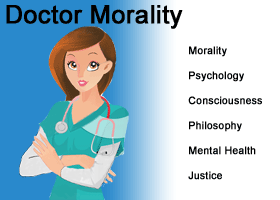 Morality and justice - for all
What are morals ?
How do people behave who are immoral or amoral ?
I like the entry from Wiki. It states
Morality (from the Latin moralitas "manner, character, proper behavior") is the differentiation of intentions, decisions, andactions between those that are "good" (or right) and those that are "bad" (or wrong). The philosophy of morality is ethics. Amoral code is a system of morality (according to a particularphilosophy, religion, culture, etc.) and a moral is any one practice or teaching within a moral code. Morality may also be specifically synonymous with "goodness" or "rightness."Immorality is the active opposition to morality (i.e. opposition to that which is good or right), while amorality is variously defined as an unawareness of, indifference toward, or disbelief in any set of moral standards or principles.[1][2][3] An example of a moral code is the Golden Rule which states that, "One should treat others as one would like others to treat oneself."[4]
So, the physics of MORALITY is the undrstanding of the qualitative and quantitative nature of morality along with the 'games' into which it is, and can be, organised.
This is not just playing word games. It is looking at the concepts and ideas, the arrangement of cognisant structures in making up the archetype of MORALITY. It neccessarily involves psychology and consciousness. It neccessarily involves history, for this is the outplaying of the games of mankind with morality integrated into the mechinations of the stories. History is the scientific experiment of all that is mankind.
To be continued.
Please join us in helping ourselves, helping others, and especially by creating a less psychologically toxic world for all of our children.