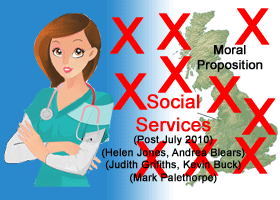 Covering up child abuse
Q. What do you do when bad things happen ?
A. Switch on as many lights as possible and shout for help.
Q. What do you do when the bad people are those in authority ?
A. Pray...........very, very quietly - schhhhh
or ........Expose them ...
As shown before on this website in this first set of case studies, it's like a competition between the various authorities in Cheshire to see who can be the most abusive to people and still get away with it. Also see Evidence.
Is social engineering as practiced in England - a
good thing

or a

bad thing

?
Social engineering has gone on as long as their have been any humans. It's not a pretty history, with aggression, infanticide, burning at the stake, garroting, enslavement.....
In these 'modern' times, we see social engineering outplayed by government in many forms - social services, police, health services.....
We see large numbers of reports and complaints about abuses by the system.
We see large numbers of reports and complaints about negligence by the system
Q. Is it surprising to read so many things gone wrong ?
A. It is not surprising from an intelligent look at the system.
What has been created is a system of people having power over others. A system that behaves, or is allowed, to be secretive. They are SUPPOSED to be ethical and moral powermongers. The hard data shows that negligent, unethical, immoral and criminal events are commonplace within this system. (see Zimbardo on authoritarian abuse )
We also see the social workers creating a two teir concept of any distressed family to make their own job easy in deciding who is good and who is bad. They simply promote as good the person they like (usually the bad person manipulator) and smear the person they do not like. See errors diagram to understand how easy it is for them to do this.
Fundamentally, the government takes large amounts of taxes off people to promote a system that is not fit for purpose. A system that spends lots of this money in hiding it's abuses and promoting itself as 'possibly good'.
If you are a social worker and reading this, please challenge all of this seriously and professionally. The more you dig, the more muck you will find.
You, if you want to be a social worker, have a responsibility to clear up the muck.
Please join us in helping ourselves, helping others, and especially by creating a less psychologically toxic world for all of our children.